---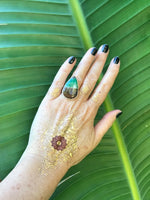 Chrysoprase is one of my favorite crystals! I just love the mix of beautiful greens with brown. So earthy and stunning! The stone in this ring is absolutely gorgeous! This ring measures approximately 1 1/4 inches long and about 1 inch wide at the base.

Chrysoprase is the ultimate heart healer stone. It also brings in joy, new love and acceptance. Chrysoprase supports the heart chakra.

Would make a unique gift idea!