---
Blog — crystalmagic
Posted by Heather Burket on
I thought I'd do something a little different in today's article and talk about a few personal experiences that I've had working with crystals. But before I do, it's probably a good idea to talk a little about my background. My background is science – I have a degree in Microbiology and a Masters in Hazardous Materials Management. Although I'm very scientifically minded, I'm also very open and have always been intrigued by spirituality and asking the deeper questions in life. Even though I am open, if you would have mentioned crystals and the concept of their healing ability to...
---
Posted by Heather Burket on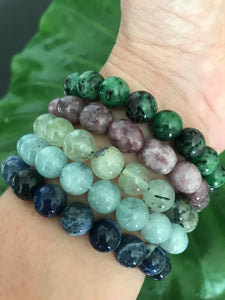 Crystals 104 – How do I choose a crystal? When you enter the world of crystals – you will easily be overwhelmed. There are so many different kinds. One of the first questions you might ask yourself is – which one should I choose? There are two basic approaches. Go with your intuition! Are you drawn to one in particular? If so, that is your own inner guidance assisting you in choosing the one that is right for you. As long as you get the name of the crystal, you can then do research to determine what type of metaphysical...