---
Blog — aventurine
Posted by Heather Burket on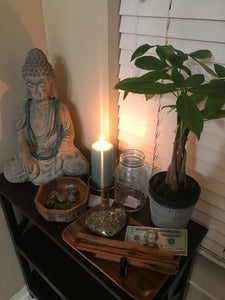 I just created an abundance altar and wanted to share it with you in case you wanted to create one for yourself. An altar is a dedicated intentional space. Altars are a great way to help focus energy on your desires – whether it's a relationship/love, abundance/wealth, peace, and harmony or whatever else you want to bring more into your life. You can buy a special table specific for your altar or dedicate a space on an existing table or shelf. There are various items that you can add to your altar. One thing that I have learned is that...
---
Posted by Heather Burket on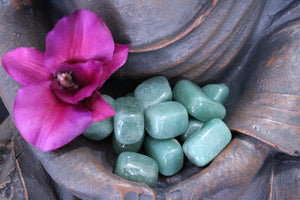 This week we are going to talk about aventurine. Aventurine may or may not be a crystal that you have heard of before. But I was inspired to pick this crystal to talk about this week because where I live it's spring time and all of the plants have put on their new leaves for the season and everything is looking very lush. Aventurine is this bright green cheery gem that perfectly reflects the newness of the season. So let's dive in! First let's go over some crystal basics: Aventurine is a type of quartz. It is quite translucent and...